---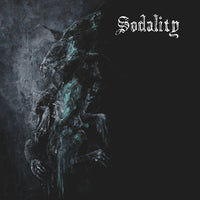 SODALITY Gothic comes with a printed insert.
---
On May 14, 2020, Timo Ketola pitched me the first recording of a band called Sodality. While the proverbial scythe certainly enjoys a constant presence within our field of work, it never occurred to us that we – a mere five months later – would be redacting the presentation of the band's debut album to a funerary retrospective.
Most will recognise the name Dauthus by its reputation as what is quite possibly the ultimate printed incarnation of the quintessence of death and black metal. Dauthus was also a record label, albeit one with a small discography – a reflection of Timo's obsessions, loyalties, and meanderings throughout the world of underground metal.
"I don't really even remember why I called the label the same as the 'zine", Timo once mused in an email. "In fact, after the initial few layouts it was even incomprehensible to me that I'd sign some layouts as 'Dths Mgzn' … I never quite reasoned about it but, I guess it's telling in a way – everything I did somehow revolved around that…"
Dauthus discography:
D/I. Kaamos 7″ (1999)
Escorbauthus 02. Repugnant/Kaamos split live tape (2003), split release with Escorbuto Recordings
D/III. Ligeia "In Death, Overshadow Thee" 7″ (2004)
D/V. Teitanblood "Seven Chalices" LP (2009), split release with NoEvDia, Ajna
Due to its clandestine nature, D/IV is usually left out. It was a bootleg long-sleeve of Morbid Angel's Abominations of Desolation. Never one to be motivated by greed – a downright ridiculous notion in this context – the main drive for this was Timo's fascination for the layout of Satanic Records' bootleg LP of the album. An aesthetic reference that would regularly come up in discussions when deciding about a visual move.
D/VI – the final release under the name of Dauthus (yes, spelled either DAVTHVS or Dauthus, as per Timo's request) – is Sodality's Gothic.
We exchanged several heated emails discussing the merits and the oddities, perhaps even the slight imperfections, of a very intuitive recording which seemingly came out of nowhere. Certainly not 2020. When Timo uttered "Sodality is a self-inflicted gun wound, possibly even partly unintentional such – in my world the finest compliment I can give to a work of art" it was swiftly agreed that Dauthus was the fitting home for Gothic. NoEvDia would handle the practical aspects.
We designed a flyer: Derelict Black Metal Ritual. My impulsive suggestion of Crypts torn asunder, mouths overflowing backwards with bane in the black morning of death was first greeted with a "Ha! Sounds like a Victor Hugo ink sketch described by Baudelaire on opium!" Then discarded for unintentionally ripping off Teitanblood's Seven Chalices flyer – a flyer largely created by Timo eleven years ago.
One of the comments Timo sent me while he worked on the layout reads as follows: "Listening to the music now on headphones, and it's like peeking down from a balcony inside a cathedral, into the black gorge below, which seems to reach much deeper than where the floor meets a falling body." In other words, Gothic was an intensely personal experience for him, summoning visions others may or may not witness. Personal to the extent that, without consulting any of the members of Sodality, he asked me to order an engraving on the matrix – a quote from an incunable called Hypnerotomachia Poliphili. Timo shrugged off this stealth-move as, "One of the small symbolical pleasures of mine, (…) I guess it's the 'whim' that's part of my life-philosophy."
Well, given the present circumstances – and thus abiding by that same spirit – we decided to print and include a short story Timo wrote in the midst of these intense discussions about Sodality. To be precise: it was written on the evening of May 24, after a hike to Rosa Crepante in Italy. The tone of his short story, as well as its ending, will feel all too familiar to those who benefited from, admired, and studied Timo's work over the years. Perhaps he never intended for it to be published in this context, being connected to Sodality mostly by temporality, but as Timo once said about Dauthus: "Things are sometimes strange in this realm."
Christian, on behalf of NoEvDia
October 2020.