---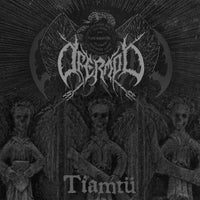 'Tiamtü'

The debut album by legends OFERMOD.
Returning with the original line-up, OFERMOD is more sublime than ever, unleashing their Kliphotic incantations in utter sinister perfection.
Only Death is Sacred!
Tiamtü
Pralayic Withdrawal
Death Cantata
Eu Angelion
Dreaming in the Veins of Kingu
Topethian Cleansing :Furnace of Moloch
Khabs Am Pekht
Maasseh Nechushtan

Licensed from Norma Evangelium Diaboli.