---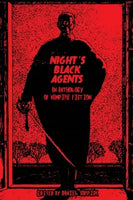 An Anthology of Vampire Fiction

Edited by Daniel Corrick

Contents:

The Vampyre, by John William Polidori (1819)
The Wood Devil, by Thomas Peckett Prest (1838)
Zuverlein, by A. Bee (1840)
The Bruxa, by William H.G. Kingston (1846)
The Pale Lady's Story, by Alexander Dumas (1849)
The Vampyre Bride, by Edwin Roberts (1850)
The Dead are Insatiable, by Leopold von Sacher-Masoch (1875)
Manor, by Karl Heinrich Ulrichs (1887)
More Things in Heaven and Earth, by Elaine A. Swire (1892)
Our Lady of the Red Lips, by Aimee Crocker Gouraud (1910)
The Vampire, by Leonhard Stein (1918)
The Vampire, by Toni Schwabe (1920)
Doctor Horder's Room, by Patrick Carleton (1935)

The vampire is the most glamorous and iconic of Gothic figures. In Night's Black Agents, editor Daniel Corrick assembles a baker's dozen of tales that trace the sanguinary path of this thirsty, mythical creature from the early nineteenth century, where it acted as an incarnation of fears of libertinism and diabolism, appearing as the Satanic villain in penny dreadfuls, through to the early twentieth century, where it appeared as both femme fatale and homoerotic bloodsucker.

This volume of stories, often perverse and even more often cruel, includes pieces by authors both famous and unknown, such as Alexander Dumas, Thomas Pecket Prest, Leonhard Stein, and Leopold von Sacher-Masoch, and features a number of rare, never anthologized items, thus showcasing in lusts for blood and doomed devouring loves, the infernal miracle that is the vampire.

About Daniel Corrick
Daniel Corrick is an editor and literary historian with a specialist interest in nineteenth-­century literature, especially the evolution of Gothicism and the Decadent movement. He has worked on a number of volumes including the collected fiction of Montague Summers, and unpublished works of Edgar Saltus and Edward Heron-Allen. In addition, he has edited several anthologies, including Sorcery and Sanctity: A Homage to Arthur Machen (Hieroglyphic Press, 2013), and Drowning in Beauty: The Neo-Decadent Anthology (Snuggly Books, 2018).