---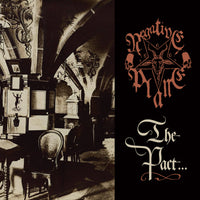 1. A Work To Stand A Thousand Years 10:04
2. Poison And The Crucifix 08:16
3. Three Turns To The West 08:34
4. The Wailing Of The Immured 01:47
5. Even The Devil Goes Into The Church 08:00
6. The Other Door 06:11
7. And So It Came To Pass 16:26
Recorded at Moonlight Mile Recordings by Michael Moebius
November 2020 - February 2021. Mixed at Moonlight Mile Recordings in May 2021. Mastered in June 2021.

Words and Music by Nameless Void. Produced by Negative Plane. Organ, choirs and bells by Nameless Void. Additional vocals on "As So It Came To Pass" and timpanis by Bestial Devotion. Session cello for "The Wailing Of The Immured" by Marcel Krasner.

Illustrations by Ben Harff. Layout by Annick Giroux.
Cover Design by Annick Giroux & Negative Plane.
An interview with Nameless Void appears on the Bardo Methodology website.