---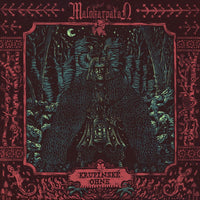 UPDATE: Due to be in stock around October 27th, 2023 but as could be predicted, we have no updates on shipping from the plant despite the fact that some European companies have had their copies for 2 plus weeks. 
Repress of the Krupinské Ohne LP
Out Friday October 27th with the new album Vertumnus Caesar
The third full length! 
Gatefold jacket with 16-page lyric/art booklet. 
Tracklisting:
1. V brezových hájech poblíž Babinej zjavoval sa nám podsvetný velmož [13:02]
2. Ze semena viselcuov čarovný koren povstáva [9:47]
3. Na černém kuoni sme lítali firmamentem [6:58]
4. Filipojakubská noc na Štangarígelských skalách [7:52]
5. Krupinské ohne poštyrikráte teho roku vzplanuli [10:43]