---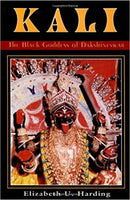 By Elizabeth U. Harding.
352 pages.8 x 5.5 inches.
"The great Hindu Goddess Kali the Black Goddess of Dakshineshwar, is certainly the perfect Goddess for this time of such upheaval in the world. She is blacker than your blackest ego and she carries skulls as she destroys everything in you that is ego-created and an obstacle to being your best and highest Self. And only when each one of us grows in this way, do we stand a chance to be the solution our world longs for. When you "unzip" the incredible Kali, the Black Goddess of Dakshineshwar, she is, in fact, the golden goddess, perhaps the most beautiful of all the Hindu goddesses. Goddess Kali?s love for human kind is the greatest love one can experience, for she is willing to appear black and ugly to rid you of what you don?t need and what is blocking your way to true happiness. Elizabeth Harding, who wrote Kali the Black Goddess of Dakshineshwar, is a devotee of this incredible goddess and everything you could want to know about the black goddess is contained in this powerful book. This is an inspiring book written by an author with tremendous insight into this revered goddess Kali. Ms. Harding reveals the intricacies of Kali the Black goddess and, as the mystery unfolds, you?ll find it hard to put this book down. Elizabeth Harding truly does transport you to India and to the places of profound worship of this amazing Goddess Kali.- Meet Kali the Black Goddess of Dakshineshwar up close and personal! Elizabeth Harding has an amazing way of revealing the magic of this amazing Hindu Goddess Kali."