---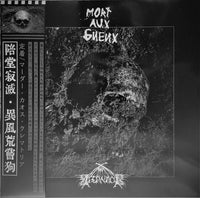 6-panel digipack
A1 Mort aux Gueux– Labourer Le Merdier 4:23
A2 Mort aux Gueux– L'Assainissement Final 5:10
A3 Mort aux Gueux– La Souillure Du Temple 3:23
B1 Ifernach– Murder Chaos Crematoria 2:06
B2 Ifernach– Pig Slaughterer 2:37
B3 Ifernach– Urban Koncentration 3:06
B4 Ifernach– A.T.A. 2:28
B5 Ifernach– Safe Metal 2:42

The Mort aux Gueux tracks were produced and recorded in the Summer of 2017. Taken from the EP L'Enracinement
The Ifernach tracks were recorded in the Spring of 2017. Taken from the EP Murder Chaos Crematoria.