---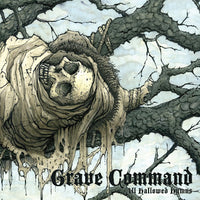 Picture disc compilation with die-cut LP jacket.
All songs (except XINR) were recorded specifically for this Samhain themed release, 2012. 
A1     Ghoul –     Noapte De Fantome Vii In D Minor         
A2     Xinr –     All Hallows Eve         
A3     Orchid –     Demon's Eyes         
A4     Ride For Revenge –     Insects Fled To The Core Of The Earth         
A5     Xander Harris –     The Piper Of Soggoth         
B1     Grave Violators –     Black Incantations
B2     Deceased –     Torn Apart By Werewolves     
B3     Occultation –     All Hallows Fire         
B4     Venenum –     Waltz In Hell (Mighty Sphincter) 
B5     Danava –     Grave Command (Main Theme)
The Aquarius Records review:
"Not sure what the theme of this compilation is, but it hardly matters, cuz holy shit is it amazing. From the art to the nearly all exclusive tracks, from a weird array of outfits from weirdo Finnish black metal to kosmische synth wranglers! Might as well just give a run down track by track... Ghoul are up first, but instead of their usual brand of metallic mayhem, offer up a creepy ominous pipe organ intro. Yep, just pipe organ, which leads directly into a track by late great eighties Portland true (Christian) metal band Xinr, whose track of Judas Priest style classic metal KILLS, replete with deranged laughter, and badass vox that are weird and warped but so good. Local Sabbath soundalikes Orchid deliver another dose of uncanny Ozzy era Sab worship, and as always, it's a dead ringer for the original, and thus, sounds amazing! Then our favorite fucked up weirdo black metal Finns, Ride For Revenge spew a filthy primitive caveman dirge metal pound, all practice space drums, crumbling distorted guitars, growled demonic vokills, and even when they crank it up to doubletime, it's still a woozy midtempo churn. The A side finishes off with Xander Harris, and some super rad, creepy Carpenter like soundtrack synthscapery, ominous and sinister, totally kick ass retro slasher flick score for sure! The flipside starts off with Grave Violators, who we had never heard before, and who traffic in grinding blackened thrash, with some seriously unhinged vocals. The mighty Deceased are up next with some classic metal menace, brand new, but sounds like it could have been recorded back in the day. Occultation follow, and deliver what might be one of the best tracks here, a sprawling epic of witchy proggy female fronted doom, epic and haunting and heavy, definitely need to hear more! Up next, also new to us Venenum, who kick out some serious progged out metallic Voivodisms, with echo drenched vox and some twisted arrangements, and finally, Danava finish things off, and like Ghoul, forego their usual sounds and finish things off with the perfect outro, all creepy synth horror movie madness. So good. And perfect for Halloween listening. And incredible packaged, garish cartoony cover art, which is also featured on the A side of the picture disc, the B side an even darker creepier drawing, and as things things usually are, quite limited, only 1000 copies."