---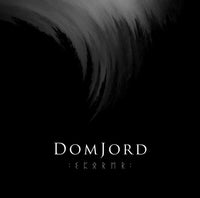 Excerpt from an interview in Bardo Methodology #6 with D. Rostén of Funeral Mist and Marduk.
One musical outlet of Rostén's likely to be spared such comparisons is his new project,

domjord

. A full-length album, "Sporer", will be released in early 2020, courtesy of Vidfare Productions via Norma Evangelium Diaboli and The Ajna Offensive.
– DomJord is an all-electronic project I've been working on for some time now. As everyone knows, certain situations call for certain music and certain moods call for certain tunes; having long searched for this specific type of sound without ever really finding anything even remotely close to what I had in mind, I simply decided to make it myself. The original plan – if there ever was on
e – was to just keep the music for myself and bring it out whenever this particular void neede
d filling. However, the musician in me felt otherwise and couldn't just leave it at that. It had to be released, if not to reach out to a supposed listenership with the same or similar needs then at least to put an end to a chapter and move on.
This will probably be categorised as dark ambient or similar, but how would you describe it yourself?
– Very melodic, fairly repetitive, somewhat minimalistic – pulsating and hypnotic, lots of contrast, lots of texture and, as just stated, all electronic… and not that I want to tell people how to listen to music, but this is lay-down-close-your-eyes-and-float-away-music. In other words, the complete opposite of everything I've ever released, performed, or taken part of before. As for genre classifications, I'll leave that to others.
DomJord – Sporer
  CD/LP (43:03)
01 Fornblod (04:06)
02 Sporer (10:38)
03 Avgrund (07:37)
04 Ande (06:57)
05 Natt (13:45)