---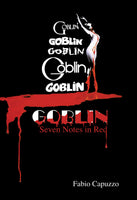 All copies ordered directly from :AJNA: will include 2 postcards (one signed by the author and numbered).
Seven Notes in Red

is dedicated to Goblin, the cult rock band that revolutionized the concept of music in film, creating an influence that is felt worldwide 40 years later. The book analyzes, year by year, song by song, the story of this seminal band in all the incarnations, in a fantastic voyage through Dario Argento's most celebrated films and the Italian film and music industry. At 600 pages,

Seven Notes in Red

provides a truly impressive iconography and a massive amount of facts and anecdotes never revealed before.
The first book on Goblin in English (originally written in Italian)
600 pages with over 350 photos, including 8 pages in full color
Includes many previously unknown quotes, anecdotes, musical notes, and interviews with former and present members
Written by arguably the largest Goblin collector in the world
The paperback edition.