---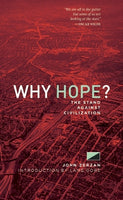 by John Zerzan
The infamous eco-anarchist John Zerzan whose books have resulted in recent interviews by Vice and Believer magazines, checks in with further provocative articles about the chaotic results of civilization and technology.

Says novelist Lang Gore in his introduction:

"The present collection of essays continues the overarching thrust of John's scholarship, unveiling the post-apocalyptic nature of our times by noting the apocalypse was yesterday, several thousand years ago, to be precise, and that nothing produced by civilization can ever redeem the systematic attempt it has undertaken these (very) few millennia to destroy or alienate any human connection with the earth.

"In fact, when civilized Europeans imposed themselves everywhere on Earth, they created a terminal crisis for themselves by their very contact with indigenous societies. Suddenly, those with eyes to see and ears to hear could recognize that patriarchy, property and authority, and certainly slavery, were neither necessary nor desirable, let alone determined by 'human nature.'"
A review from elsewhere:
"If you've read Zerzan before, then you know what to expect. If you've never read him before, I'd probably recommend you start with Elements of Refusal, his best collection. This is one is also very good. As is typical of Zerzan essays, expect lots of quotations and footnotes. The style makes the essays dense in ideas and make for slow reading. The book is only 132 pages, but don't expect to zip through it in an afternoon. The first two essays are a little slow and abstract, but my favorite stuff comes in after these. The essay on the Bronze Age, on the crisis in Rome and on the Luddites were all worth reading and form the best parts of the book in my opinion. I read Zerzan because I like how his ideas challenge the mainstream view. Some of the later, shorter essays are just okay and there's a short interview that you can skim through that isn't much, but were enough interesting bits to keep me going. A solid collection."