---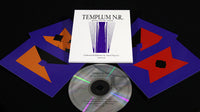 The musical and visual material of Templum N.R. comes from the very depths of the Templum members; their travels in the Spheres of Otherness are presented in 'Spectrum CCCXC: Transitio' through obscure electronics, synthetic drones, odd rhythmic patterns, pulsing melodies and various manipulated field recordings dating back over a decade. The intention of these two, long-lasting psychedelic movements is to travel deep inside the subconsciousness and foster the understanding of Formless Sacrifice. The Otherness is unleashed in the surroundings inhabited by the group's output.
1 Whispers Echo Into A Monolith 21:52
2 The Glow Breathed Out From The Aphotic Deeps 21:21
3 Telepathic Resonances 9:50
4 White Purge 14:40

Housed in a customised and screen printed Sublunar series cardboard cover, including four two-sided insert cards.