---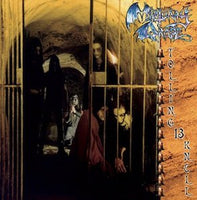 Gatefold.
A1 Dreadful Discovery 4:00
A2 Liar Jubileum 5:05
A3 Vertical 3:01
A4 Not Still Born (The Unborn Plane) 7:03
B1 Laylah 7:48
B2 Winged Priestess 4:30
B3 The Last Supper 6:29
C1 Birth's End 4:35
C2 Defuncts 4:55
C3 Lantern 8:39
Bonus Tracks
D1 Pentagram 3:22
D2 Undead Revenge 4:58
D3 Obscure World 0:31
D4 Soul In Sorrow 3:40


Tracks D1 to D4 are exclusive bonus tracks, taken from the "Doom Return" demo (with the only exception of the song "Necromancer") originally released on cassette in the year 1989.
Gatefold cover with printed lyrics on the inner sleeve.