---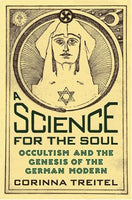 Occultism and the Genesis of the German Modern
by Corinna Treitel

Hopkins University Press. Hardback. 

Germany's painful entry into the modern age elicited many conflicting emotions. Excitement and anxiety about the "disenchantment of the world" predominated, as Germans realized that the triumph of science and reason had made the nation materially powerful while impoverishing it spiritually. Eager to enchant their world anew, many Germans in the late nineteenth and early twentieth centuries responded by turning to a variety of paranormal beliefs and practices—including Theosophy, astrology, psychical research, graphology, dowsing, and spirit healing. No mere fringe phenomenon, the German occult movement had a truly national presence, encompassing hundreds of clubs, businesses, institutes, and publishers providing and consuming occult goods and services.

In A Science for the Soul, historian Corinna Treitel explores the appeal and significance of German occultism in all its varieties between the 1870s and the 1940s, locating its dynamism in the nation's struggle with modernization and the public's dissatisfaction with scientific materialism. Occultism, Treitel notes, served as a bridge between traditional religious beliefs and the values of an increasingly scientific, secular, and liberal society. Drawing on a wealth of archival materials, Treitel describes the individuals and groups who participated in the occult movement, reconstructs their organizational history, and examines the economic and social factors responsible for their success.

Building on this foundation, Treitel turns to the question of how Germans used the occult in three realms of practice: Theosophy, where occult studies were used to achieve spiritual enlightenment; the arts, where occult states of consciousness fueled the creative process of avant-garde painters, writers, and dancers; and the applied sciences, where professionals in psychology, law enforcement, engineering, and medicine employed occult techniques to solve characteristic problems of modernity. In conclusion, Treitel considers the conflicting meanings occultism held for contemporaries by focusing on the anti-spiritualist campaigns mounted by the national press, the Protestant and Catholic Churches, local and national governments, and the Nazi regime, which after years of alternating between affinity and antipathy for occultism, finally crushed the movement by 1945.

Throughout, A Science for the Soul examines German occultism in its broadest cultural setting as a key aspect of German modernism, offering new insights into how Germans met the challenge of pursuing meaningful lives in the modern age.