---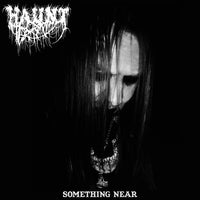 1. THE NIGHT SPOKE 04:38
2. PSYCHIC TRACES OF THE PAST 04:01
3. THE MYSTERIES OF THE DEAD 05:18
4. A JOURNEY TO UNEARTH MY OWN REMAINS 04:49
5. HUMAN ASHES ON MY FACE 03:58
6. GUIDED BY FOG TO THE GRAVE 06:16
7. AN AEON OF HORROR IN THE SHAPE OF A HOUSE 07:00
8. THE RETURN OF A FORGOTTEN PAGAN LIFE 01:55
from metal archives:
"I have talked before in reviews, both on this site and in zines, about the difference between imitators of and torchbearers for true black metal. And yet even among the torchbearers, Haunt stands apart. There is a feeling, almost spiritual, that real black metal conveys - something hard to describe, but whose absence is easily noticed. It is present here.

Musically, Something Near is just as rooted in filthy 90s necro black metal worship as Haunt has ever been. The only major musical change here is the general increase in tempo and intensity, a change that is bolstered by Perthro's seeming improvement as a drummer - his drums always sounded tight and stylistically appropriate, but I notice them more on this album than on the self-titled or Grimoires and invariably like what I hear. The tom work in particular is compelling, calling to mind some of the early second wave's most practiced and prolific drummers, and - as is always the case with Haunt - none of it feels showoffy or indulgent.

Thematically, the tracks discuss the expected themes - death worship, grave desecration, necromantic ritual - but the lyrics too are improved here compared to past releases. Even in the song titles this is evident: I was already quite taken with the title "An Aeon of Horror in the Shape of a House," but a title like "Human Ashes On My Face" is even more direct and for that reason more compelling. It is a bit surprising when, late in the album, he screams "my hate grows with every second" in a manner almost reminiscent of a hardcore band's mosh call, but the section that follows quickly dispenses with that as it further asserts the darkness and atmosphere of this black ominous metal.

There are some interesting production choices too, especially on "Guided By Fog To the Grave" (which, loyalists may note, was streamed as the promo track for this album back on Halloween 2022). The light haze of synthesizer and ambient, quasi-tribal drumming overtop of the mausoleum ritual adds to the tenebrous atmosphere; then, after the unforgettable main riff, we hear a vocal track that is distorted and lo-fi in a manner very reminiscent of Filosofem - almost surely a deliberate nod to one of the indisputable masters, but also a great choice in the context of this tinny, no-fi production. The liner notes indicate that this and one other track were recorded in a separate session, back in October '21; while the whole album sounds great on the production front, it is easy to wish that the whole album sounded as good as these older recordings.

I have minor complaints about the album, like the multiple fadeout endings and the fact that several songs (especially early on in the tracklist) follow essentially the same "fast part / long held out chords / fast part / midtempo / fast part" structure - and I will say that this is not an uncomfortable listen in the way that Grimoires of Undead Power and especially Haunt are - but altogether this is exactly what I would have expected and hoped for in a third Haunt album: uncompromising black artistry and sincere death worship.

Hail True Black Metal.
The Death Is Real."